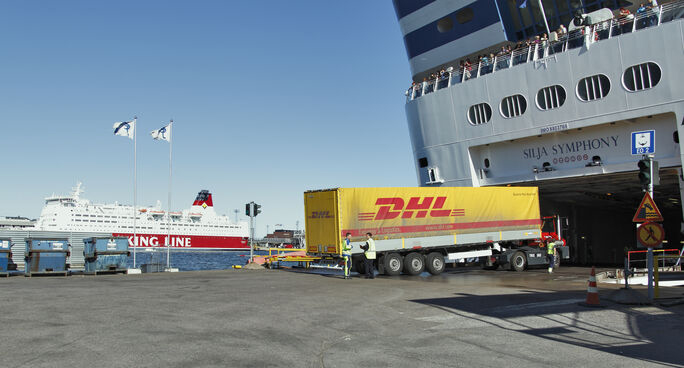 South Harbour
There are busy ferry connections to Stockholm from South Harbour. Ferries carry not only passengers, but also plenty of roro cargo. In addition to liner traffic, Eteläsatama serves international cruise traffic.
Gates
All heavy traffic destined for the Olympia Terminal (Silja Line) must travel through the Gate B.
Gate B
Address: Eteläranta 7
South Harbour's Gate B (located on the Market Hall side) is for use by heavy traffic, goods suppliers and those with parking spaces located to the side of or at the end of the Makasiini Terminal. Guards will check harbour parking permits and IDs.
Gate B cannot be used to travel through the harbour area to visit Satamatalo.
Shipping Companies and Operators
Tallink Silja Oy
Tel. +358 (0)400 778 400
cargo.booking(at)tallinksilja.com
Cargo check-in open:
Mon–Fri 11:30am – 4:45pm
Sat–Sun 2:30pm – 4:45pm
HTG Stevedoring Oy As
+358 (0)50 375 5042
Routes for heavy traffic
Please note that there are a significant number of restrictions on the movement of heavy traffic in Helsinki city centre.